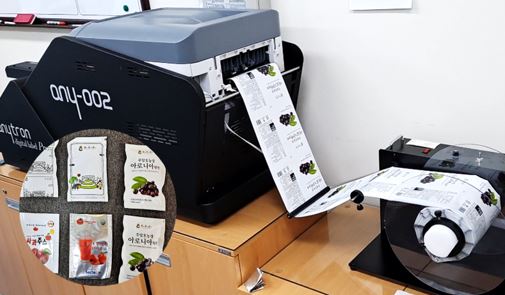 Suncheon City Agricultural Products Processing Center opened in May 2020 and is the largest agricultural processing center in Korea. The business was unable to serve customized orders due to the overall wait they had to do for the printed labels and flexible packaging to come.
That is why they have recently added anytron any-PACK which allows them to tend to the customized packaging of the products and procuring orders in this regard. This way they are able to serve various companies without compromising the agility of the process. The anytron any-PACK runs with adobe illustrator which makes the whole process of dealing with it easier than you think.
Agricultural Products Processing Center purchased the any-pack system of anytron and report that their production problems are solved. It is an elegant system that doesn't break the processing assembly as it can take on even the minutest or say a single print job for a customized label&pouch printing order and for that neither design are to be changed or the whole system has to be wired from start.
Anytron's any-PACK solution: the any-PACK solution is a PACKAGE consisting of any-002 and S/W, R2R laminator, and vertical filler for flexible packing on-demand. The digital laser printer is water, temperature, and abrasion-resistant.
Using high-capacity toners and drums, high-resolution pouches can be produced at reasonable prices cutting through the unreasonable waiting periods for the printing to be over. Thanks to the LED toner printing technology, any-PACK can print on paper such as Kraft without smudging or ink being displaced poorly compromising the integrity of the final print, creating eco-friendly pouches. The printed pouches maintain their quality for a long time as they have superior waterproofing and are less susceptible to the impact of external environments.
"We can print labels and pouches with any-pack and easily insert and edit variable data with dedicated software," said Kim, a researcher at the Agricultural Processing Center.
"Most of all, we think the biggest advantage is that we have a lot of farmers who need only a few hundred copies, and we can print them immediately."
Since the Agricultural Products Processing Center installed the any-pack system, they have commercialized products in small volumes, and members have been pleased that we can try various designs. In addition, we were able to solve multiple problems due to outsourcing. This is definitely a smart step towards the future as the demand for an on-the-spot printing solution to match the customer's needs and favoring the completion of urgent orders that are not primarily in bulk is on the rise.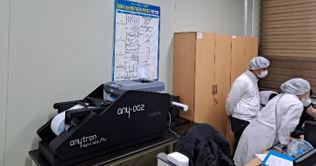 And Suncheon City Agricultural Products Processing Center is considering purchasing anytron's new machine any-JET II that is combined a digital label printer and laser die-cutter for label and pouch printing. any-JET II is the best solution for label and flexible packaging printing because it has laminating, laser scribing, and slitting function.
This means that everything from crafting the design onto the label, the printing of other information, cutting of the die into a customized shape, and placing of adhesive can be done in a single assembly line. It will not only save time but money too and would prove to be a marvel long used to produce eccentric labels that aid in marketing and sale of the products equivocally.
Contact Us: sales@anytron.com / www.anytron.com