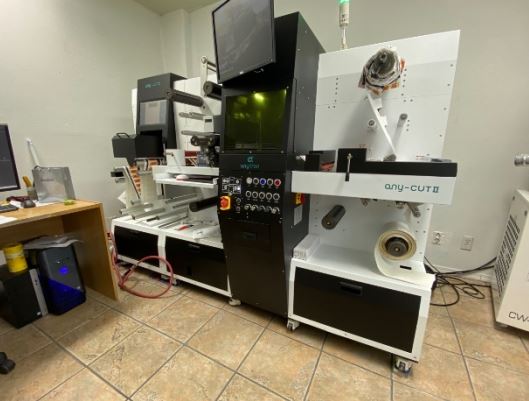 Australia print shop Express Label has invested in any-JET II inline inkjet and laser finisher system from anytron to expand the capacity for the production of self-adhesive labels.
Express Label, was founded in 1990, serves more than 20 years mainly short run and perfect match for color and custom shape product labels and stickers with a machine park of currently flexo and digital machines.
To capture more orders, they wanted to receive orders without any Minimum quantity.
Production Manager of express label, Mr. Andy Choi said
"We were trying to remove minimum order quantity to receive more orders, and it was nearly impossible since we need to consider die making time, job changing over time and wasting media"
Mr. Andy Choi found anytron has inline press called any-JETII combined Memjet inkjet press with laser die cutter and it has capability to be able to response on super short run jobs like one or two pages of labels.
Anytron Sales manager, Brian said
"Consumers always research label manufacturers to get the better deal. They expect receive orders faster and they don't want to pay more on the quantity of labels that they don't need. However, they don't hesitate to pay a bit more to get the quantity that they need if it will be delivered faster.
The delivery time of labels are dramatically reduced, and of course, productivity has been greatly improved. Express label is able to deliver labels to more customers faster with any-JETII.